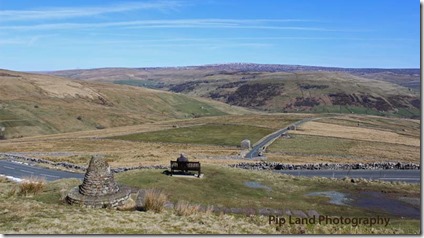 County councillor John Blackie has ensured that the Yorkshire Dales National Park Authority's planning committee will decide on what type of masts should be erected in Upper Swaledale in a bid to provide communities there with 21st century communications. (Above – looking across Upper Swaledale)
This is because, he said, a monopole mast has been approved for High Seal Houses in Arkengarthdale by a planning officer under delegated powers which will be solely for the use of the Emergency Services and can't be shared with other mobile communications operators.
At the April meeting of the YDNPA planning committee a planning officer recommended that the application for a lattice mast on Malham Moor, which could be shared with other suppliers, should be refused. He said that as it was part of the Home Office's Emergency Services Mobile Communications Programme a monopole would be sufficient and have less impact on the landscape.
YDNPA member Neil Swain, who acts as the landlord for the National Trust site on Malham Moor, had asked the committee to consider the application because, he said, mobile communications were at the very forefront of the needs of modern families and, therefore, a key element in trying to attract more families to live and work in the Park.
The majority of the committee approved the application because, as two said, the lattice mast will be strong enough to be shared with commercial operators and will not have a significant impact upon the landscape.
Following that meeting Cllr Blackie hopes that it is not too late to reappraise the decision regarding the mast at High Seal Houses in Arkengarthdale.
He has told Arkengarthdale Parish Council: "This may be a last chance for several years to secure mobile communications in Arkengarthdale and Upper Swaledale, which we all agree are both communications black spots of the highest order; but if the YDNPA is going to allow mast operators to get away with installing equipment that does not facilitate mast sharing then, given the huge importance of mobile reception in everyday life, it is consigning our deeply rural communities to a bleak future and an increasing spiral of ultimate decline."
He has pointed out that in Keld and Langthwaite there is not only no mobile phone service but no terrestrial TV or radio signal either. When BT installed Fibre to the Premises (FTTP) to Keld in late 2017 it refused to put Angram on the circuit even though the fibre cable passes through it, nor will all properties in Keld be offered FTTP.
He added that in Langthwaite's telephone exchange the aluminium underground wiring was so worn out that it was unfit for purpose and unsuitable for broadband via Fibre to the Cabinet. A resident there who lives 100 yards or so from the Dale road was quoted £29,000 by BT to be provided with a telephone line, he said.
He noted that the lack of such 21st century communications facilities means that primary and secondary school children cannot work at home on homework that requires them to have access to the internet; and that farmers cannot submit stock records and claims for subsidies online.
The largest employers in the local economy in Keld and Langthwaite, he said, were the accommodation providers. But they are losing trade due to the lack of internet connection, both for making bookings and because their guests expect to be able to communicate with the outside world!
"We have traditionally relied on a high loyalty factor…but the lack of modern communication provision is eroding this very important return visit source of business. It is especially important to visiting young families with children/teenagers to have a mobile phone service available so they can keep in touch with their friends whilst they are away on holiday," Cllr Blackie added.
He has strongly urged Arkengarthdale and Muker Parish Councils to contact Rishi Sunak MP as they had been assured by him that the new communications masts would be capable of being shared.
The two masts proposed for Upper Swaledale are at Crowtrees and Birkdale Common in Muker Parish.