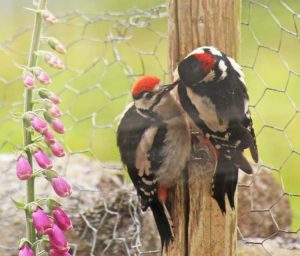 A woodpecker brought its chick to my garden to make it easier to collect nuts and feed the youngster. 
Some of the parents who have children at West Burton CofE School made it very clear at a meeting on June 12 that they would appeal to the Secretary of State if the BAWB Federation of Schools says No to de-federation.
There have been several meetings now since the parents of children at West Burton became so frustrated with the current situation with BAWB (Bainbridge, Askrigg and West Burton Federation of Schools). See the future of West Burton CofE School.
On June 12 there was yet again no representative from Leeds Diocese at a meeting organised by those parents. There was a representative from the LEA (Stuart Boothman) who carefully explained what will need to be done if the governing body of BAWB (Bainbridge, Askrigg and West  Burton) gives the green light for de-federation.
At the YDNPA's planning committee meeting on June 12 the head of development management, Richard Graham, said there would be a written response to a statement and question from the Association of Rural Communities. I dedicated that to Stephen Butcher who was so concerned before he died that the YDNPA was no longer providing monthly lists of decisions made by planning officers under delegated powers.
A prime example of this was a decision by a planning officer, under delegated powers, to approve a communication mast which cannot be shared with commercial communications operators.
The ARC News Service report helped to highlight the fact that those living in Arkengarthdale would not get any benefit from that mast – even though Rishi Sunak MP had promised that the communication masts erected for the emergency services would be available for commercial 4G phone and broadband services.
Two applications for masts were discussed at the meeting on June 12. One of the applications was amended to allow a slimline lattice mast to be erected in upper Swaledale so that commercial operators could use it to provide a mobile phone service in that area.
The statement which I read was as follows:
At the Full Authority meeting in September 2017 [YDNPA] Members agreed that the functions of the Authority's Development Management should be streamlined.
One of the criteria was that the information should already be readily accessible to Members and the general public. It was argued, therefore, that the monthly list of decisions made by officers under delegated powers was unnecessary because there was a wealth of information about planning applications available on the Authority's website. It was stated that this data could be searched by date and location in any parish.
The emphasis there should be on 'in any parish'. There are now 112 parishes in the National Park. We would estimate that it could take two days to carry out an overview of decisions regarding any one issue such as barn conversions. That is not making information easily accessible to either Members or to the general public.
In fact, the Association of Rural Communities would argue that information is remaining hidden especially as it can be very difficult even for Members to contact individual officers. The standard auto-reply from one officer urges enquirers to contact him by email, stressing how difficult it is to maintain contact by telephone.
We do understand that the planning service is under-staffed and under pressure – but surely in the 21st century it is possible to generate lists of decisions by officers and to make those available on the Authority's website? This would greatly improve the transparency and accountability that the Authority has stated it wishes to achieve.