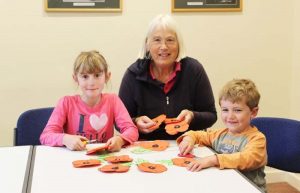 Preparations for the Festival of Remembrance at Aysgarth church  are well under way now. People of all ages have made about 1,000 paper poppies for 'waterfall' which will cascade over the altar.   Above: Sally Stone making poppies with her grandchildren.  
From the day it was founded the Association of Rural Communities has argued for more consistency in the planning decisions made by the Yorkshire Dales National Park Authority (YDNPA).
But it came as a surprise when the chairman of the Authority's planning committee, Richmondshire District councillor Caroline Thornton Berry told Aysgarth and District Parish  Council that the inconsistencies were caused by the different ways that planning officers approached making decisions. For more see the latest ARC News Service Report.
The Association has also reported on the concerns of residents in Horton in Ribblesdale about the impact of tens of thousands of walkers descending on the village to take part in Three Peaks charity walks.
In May 2016 Horton in Ribblesdale parish council objected to the YDNPA giving planning permission for banners to be erected supporting a "Day in the Dales" event. It told the Authority that large-scale charity events were causing untold stress and pressure regarding parking, litter and noise pollution in the village.
Now it has been reported (on Richmondshire Today and by the BBC) that the Authority was told at its meeting on September 11 that some residents were being forced to evacuate their homes at weekends to get away from these mass invasions and "over-tourism".
I was unable to attend that meeting but thankfully Stuart Minting was there from the Local Democracy Reporting Service. This was created to fill a gap in the reporting of local democracy issues.
I am glad about that as, just as in May 2016, it is only thanks to independent reporters attending such meetings that we get to hear about the negative impact of the YDNPA upon residents and even on the environment in the National Park. The YDNPA is currently using crowdfunding to try and raise the funds to repair the damage that all those thousands of walkers are doing to footpaths across the Three Peaks.
…..
I also missed the YDNPA planning committee meeting in August because David and I were in the midst of a truly memorable summer.
First there was our wedding at Countersett Meeting House on Saturday July 21. That made history as it was the first wedding at that Meeting House since 1841.
Then we chartered The Albion for our wedding blessing – and were told later that it was probably the first time the wherry  had been involved in such an event.
Do see my posts about our Quaker wedding (Parts One and Two) and the wedding blessing.
A very big thank you to all our family and friends who helped to make these two occasions so special for us.