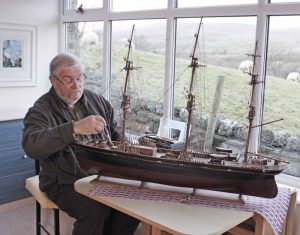 David has a new hobby since a recent visit to Tennants Auction Rooms in Leyburn. For more about that and a trip which included some great Dales' views see A visit to Leyburn and Swaledale.
My "She can't do that – she's a girl" is my contribution to celebrating the suffragette movement and the first time some women in the UK were allowed to vote (February 6 1918). I've also explained more about why I am still voluntarily reporting on YDNPA meetings for the ARC News Service.
With the help of an Association of Rural Communities (ARC) committee member I was able to catch up with reporting on the YDNPA Full Authority meeting in December. That was remarkable for the discussion about increasing the council tax on second homes. The press reports sent out by the YDNPA did not cover the questions raised by YDNPA members at that meeting about the possible negative impacts of having a pilot project to assess that proposal.
On this website you will find a more detailed report. And that is one of the major aims of ARC – to try and provide fuller, independent reports. This is the only place where you will find an archive of reports of the YDNPA planning committee meetings since 2010.
Recently some members of ARC  were researching decisions made back in the 1990s and realised just how little was reported in the YDNPA's own minutes about how decisions were made. Yes, the decisions and officers' reports are there – and that is about all. Once upon a time local newspapers sent reporters to the planning meetings but those days are long gone. So ARC continues to monitor and report on those meetings.
Second Homes debate – this continued on Tuesday January 16 when Cllr John Blackie resigned as chairman of the Richmondshire District Council's Upper Dales Area Partnership. His email and the discussion which followed can be read at SecondHomesDebate.
The RDC Upper Dales Area Partnership meeting on January 17 was cancelled due to bad weather.
Time to Shout!
"There simply are not sufficient emergency ambulances because so many services are being transferred to distant hospitals like the James Cook [at Middlesbrough]," Cllr John Blackie told Aysgarth and District Parish Council on September 14.
The shortage of ambulances isn't the only problem. The YDNPA has reported that it has made no progress with its objective to provide basic mobile phone coverage across the Yorkshire Dales National Park. Our Community 1st Responder team is so aware of the problems that can cause.
One of my latest shouts was to a very ill woman and it was obvious I needed backup as quickly as possible. BUT – there was no mobile phone signal and the battery in her landline phone was dead. The ambulance took over ten minutes to reach us having come to mid Wensleydale all the way from Harrogate!
Since the A&E unit at The Friarage hospital  in Northallerton has been downgraded we are often waiting longer and longer for an ambulance to arrive. The situation will be even worse if the A&E department   at Darlington Memorial Hospital  is downgraded as well.
If everything is centred on the James Cook University hospital in Middlesbrough the journey time will be doubled and there ambulances are often in a queue there. So if the ambulance from Bainbridge takes a patient there it might be gone for five to six hours. And if the ambulances from Richmond are on a shout we might be waiting for those from Ripon, Harrogate or Pateley Bridge.
Now there are further plans to dilute the services available at Northallerton. So it is time we all started shouting – not just to secure future of The Friarage and the A&E unit at Darlington,  but also for a better mobile phone service in these rural areas.
I do like it when this website provides the means for old friends to reconnect with each other. This especially happened during 2016 for Graham and Mary Watts, and was the means by which Catherine Conrad could have flowers delivered to a grave at Aysgarth churchyard.  See Connections. 
For details of services in the Penhill Benefice in mid Wensleydale at St Andrew's, Aysgarth;  St Bartholomew's, West Witton; St Margaret's, Preston under Scar; St Mary's, Redmire;  and  St Oswald's, Castle Bolton and the Mission Room at Thornton Rust see Penhill Benefice. The Remembrance Display at St Andrew's church continues and for more about those from Wensleydale who were affected by the 1st World War see In Remembrance.
I also enjoy attending Quaker meetings with my partner, David. Those at Bainbridge Friends Meeting House are at 10.30am on Sundays, except for the last Sunday in the month when they are 10.45am at Countersett Friends Meeting House.
For more details see Quakers/Bainbridge. My interest in the Quakers began with my research about the pioneers of girls' education (see The Quaker Inheritance )
For some of my galleries on Flickr see: Tour de France in Wensleydale, Aysgarth church flower festival, NE Mercedes-Benz Club Aysgarth Run 2014, Queen's Jubilee Celebrations in  Aysgarth 2012 , Olympic Torch at Aysgarth Falls and Anne Barlow – Aysgarth's centenarian.  Also N E Mercedes-Benz Club at RAF Leeming