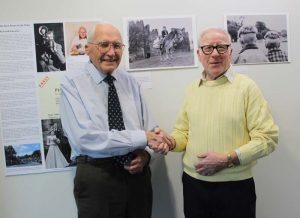 The opening of Frank Knowles' exhibition of his black and white news photographs from the 1950s provided him with an opportunity to meet Terry Dodd again. Terry was a school boy when Frank photographed him on a donkey helping to deliver milk. Terry now lives in Sunderland.
Sixty of Frank's amazing collection of photographs are on show at Tennants Garden Rooms until February 17th.
The Remembrance Poppies which have been such a special feature of Bainbridge since 2014 have now been taken down. I have posted the story about those poppies – and one remembering Pte Thomas Spence of Walden.
The post Remembering a father and a great uncle not only tells the remarkable story of how Major Donald Rose MC had gone with the Ceylon Planters Rifle Corps to Gallipoli in WW1 and gained a commission with the Essex Regiment, but also the sad love story of a Durham Pal, Sgt Ernest Moore.
In Aysgarth another special event has come to an end. Christmas just won't be the same without the children's Nativity at Aysgarth Chapel. A big thank you to Jean Cockburn and Rona Trowell for all they have done over the years to help make this such a memorable part of our village life – and to all the children who have taken part.
For over 20 years the Association of Rural Communities has campaigned for the importance of farmers and landowners to the dales landscape to be recognised – and for the YDNPA to properly recognise the socio-economic needs of those living and working in the National Park.
So the posts about farmers and the cost of the National Park boundary extension are important landmarks, especially the former. That is mainly a report from the Association's AGM – and its chairman's acknowledgement of the benefits of the agri-environmental scheme in Wensleydale.
The Yorkshire Dales must not be turned into a chocolate box postcard but needs to be lived in, Cllr Richard Welch told the YDNPA planning committee on Tuesday December 11.
On occasions at that meeting it looked as if there was a 'three-line whip' in place to ensure that members voted in accordance with officers' recommendations after decisions had been referred back for confirmation (see YDNPA – barns and yurts).
Cllr Welch commented afterwards: "As someone who sits on other Authoritys' planning committees this is the only one which has a reference back procedure."
He recalled that at the October meeting  of the YDNPA planning committee the majority of members voted to approve an application for a house in a haulage yard at Hebden for a local family. This was against officers' advice. He continued: "I wonder what happened in the following month when, at the November meeting under reference back, it was refused by nine to eight. What happened to make five members change their minds?"
For photographs of the recent Festival of Remembrance at Aysgarth church go to Aysgarth Festival of Remembrance.
I missed a few YDNPA planning committee meetings in 2018 including that in August because David and I were in the midst of a truly memorable summer.
First there was our wedding at Countersett Meeting House on Saturday July 21. That made history as it was the first wedding at that Meeting House since 1841.
Then we chartered The Albion for our wedding blessing – and were told later that it was probably the first time the wherry  had been involved in such an event.
Do see my posts about our Quaker wedding (Parts One and Two) and the wedding blessing.
A very big thank you to all our family and friends who helped to make these two occasions so special for us.