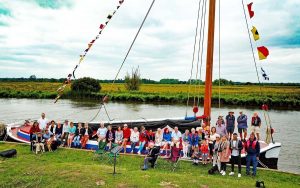 From the day it was founded the Association of Rural Communities has argued for more consistency in the planning decisions made by the Yorkshire Dales National Park Authority.
But it came as a surprise when the chairman of the Authority's planning committee, Richmondshire District councillor Caroline Thornton Berry told Aysgarth and District Parish  Council that the inconsistencies were caused by the different ways that planning officers approached making decisions. For more see the latest ARC News Service Report.
…..
I missed the YDNPA planning committee meeting in August because David and I were in the midst of a truly memorable summer.
First there was our wedding at Countersett Meeting House on Saturday July 21. That made history as it was the first wedding at that Meeting House since 1841.
Then we chartered The Albion for our wedding blessing – and were told later that it was probably the first time the wherry  had been involved in such an event.
Do see my posts about our Quaker wedding and the wedding blessing.
A very big thank you to all our family and friends who helped to make these two occasions so special for us.