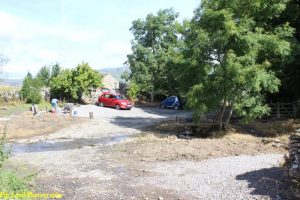 The car park in the Outgang at Thornton Rust has been transformed this summer thanks to a team of volunteers led by Mark Sheard. For more photographs of how the work has progressed click on that above.
There were calls to organise a protest march to Bainbridge late last year when people in Upper Wensleydale realised that Tim's Barn near Gayle had been turned into a luxury holiday cottage – instead of a "stone tent". For more about that and the proposal to construct a large slurry store above Thoralby see the latest ARC News Service report.
Concerts – There's a great choice of concerts at Aysgarth church during October. See my Penhill Benefice page for details.
You will also find information about the Spooky Trail around Bolton Castle on Sunday, October 29 before the Penhill Praise Service of Light/Family Service at 10.30am. All are welcome.
Time to Shout!
"There simply are not sufficient emergency ambulances because so many services are being transferred to distant hospitals like the James Cook [at Middlesbrough]," Cllr John Blackie told Aysgarth and District Parish Council on September 14.
The shortage of ambulances isn't the only problem. The YDNPA has reported that it has made no progress with its objective to provide basic mobile phone coverage across the Yorkshire Dales National Park. Our Community 1st Responder team is so aware of the problems that can cause.
One of my latest shouts was to a very ill woman and it was obvious I needed backup as quickly as possible. BUT – there was no mobile phone signal and the battery in her landline phone was dead. The ambulance took over ten minutes to reach us having come to mid Wensleydale all the way from Harrogate!
Since the A&E unit at The Friarage hospital  in Northallerton has been downgraded we are often waiting longer and longer for an ambulance to arrive. The situation will be even worse if the A&E department   at Darlington Memorial Hospital  is downgraded as well.
If everything is centred on the James Cook University hospital in Middlesbrough the journey time will be doubled and there ambulances are often in a queue there. So if the ambulance from Bainbridge takes a patient there it might be gone for five to six hours. And if the ambulances from Richmond are on a shout we might be waiting for those from Ripon, Harrogate or Pateley Bridge.
Now there are further plans to dilute the services available at Northallerton. So it is time we all started shouting – not just to secure future of The Friarage and the A&E unit at Darlington,  but also for a better mobile phone service in these rural areas.
An extraordinary planning meeting
The September meeting of the YDNPA's planning committee was an extraordinary one – and, at this point in time, quite unique. The problems faced by the planning department arose because of the extension of the National Park last August and the complicated arrangements that now exist between it and some other local authorities. I wonder how many more odd and difficult situations will arise.
I do like it when this website provides the means for old friends to reconnect with each other. This especially happened during 2016 for Graham and Mary Watts, and was the means by which Catherine Conrad could have flowers delivered to a grave at Aysgarth churchyard.  See Connections. 
For details of services in the Penhill Benefice in mid Wensleydale at St Andrew's, Aysgarth;  St Bartholomew's, West Witton; St Margaret's, Preston under Scar; St Mary's, Redmire;  and  St Oswald's, Castle Bolton and the Mission Room at Thornton Rust see Penhill Benefice. The Remembrance Display at St Andrew's church continues and for more about those from Wensleydale who were affected by the 1st World War see In Remembrance.
I also enjoy attending Quaker meetings with my partner, David. Those at Bainbridge Friends Meeting House are at 10.30am on Sundays, except for the last Sunday in the month when they are 10.45am at Countersett Friends Meeting House.
For more details see Quakers/Bainbridge. My interest in the Quakers began with my research about the pioneers of girls' education (see The Quaker Inheritance )
For some of my galleries on Flickr see: Tour de France in Wensleydale, Aysgarth church flower festival, NE Mercedes-Benz Club Aysgarth Run 2014, Queen's Jubilee Celebrations in  Aysgarth 2012 , Olympic Torch at Aysgarth Falls and Anne Barlow – Aysgarth's centenarian.  Also N E Mercedes-Benz Club at RAF Leeming