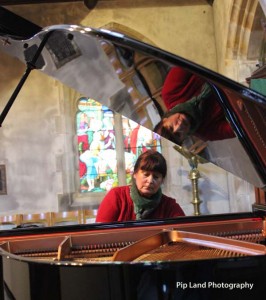 Many thanks to Alicja Fiderkiewicz (above) and Jessica Duchen for an unusual and very enjoyable concert at Aysgarth Church on October 8.
The Wensleydale Concert Series also organised the New World Trio's awe-inspiring concert at Bainbridge Meeting House on  September 16, and the brilliant and beautiful piano concert at Aysgarth church on August 11 thanks to Daniel Grimwood.
But an event during that concert highlighted the need to retain the A&E service at Darlington Memorial Hospital.
As a community first responder I am very aware of how long we often have to wait for an ambulance – and that will increase if there isn't an A&E service at Darlington Memorial Hospital.
"This news is so bad I simply do not believe it," was Cllr John Blackie's response to a NHS programme which could include the option of moving all A&E services to the James Cook University Hospital at Middlesbrough, 60 miles from Hawes.
This issue was discussed at the Upper Dales Area Partnership meeting at the Reeth Memorial Hall, Reeth,  on Wednesday, September 21.
For more information see the two posts on A&E Services in the Upper Dales.
For details of services in the Penhill Benefice in mid Wensleydale at St Andrew's, Aysgarth;  St Bartholomew's, West Witton; St Margaret's, Preston under Scar; St Mary's, Redmire;  and  St Oswald's, Castle Bolton and the Mission Room at Thornton Rust see Penhill Benefice. The Remembrance Display at St Andrew's church continues and for more about those from Wensleydale who were affected by the 1st World War see In Remembrance.
I also enjoy attending Quaker meetings with my partner, David. Those at Bainbridge Friends Meeting House are at 10.30am on Sundays, except for the last Sunday in the month when they are 10.45am at Countersett Friends Meeting House.
For more details see Quakers/Bainbridge. My interest in the Quakers began with my research about the pioneers of girls' education (see The Quaker Inheritance )
Rural Summit reports can be found at Affordable Housing, Employment and Transport, Devolution and Partnerships,  Helping young people, Health and Education and The start up obstacle race.