The Dales Countryside Museum  at Hawes is a fascinating place to visit but it is even more interesting to help there as a volunteer as I have found as a Friend of the DCM.
The DCM relates to the social history of the Yorkshire Dales and much can be viewed and explored thanks to the displays in the museum. Those in stored in boxes are available to researchers thanks to the efforts of many volunteers.
Fiona Rosher, the museum manager, reported in 2008 that the volunteers had helped the DCM achieve full accreditation with the MLA (Museums Libraries and Archives). But volunteers do far more than just compile collection records and list objects as they also assist with events, photograph objects, re-pack textiles, carry out maintenance and painting, and tend the garden.
Both David and I are volunteers with the  Friends of the Dales Countryside Museum. The FDCM is an independent charity set up to help in the running of the museum. Its members do this by promoting the improvement of the museum; raising funds to help maintain and develop the collection; and arranging events for the interest and education of the Friends.
In 2015 I joined the Research Room team. That room is open Monday to Sunday 10am to 5pm for those searching for information about their dales forebears.  FDCM volunteers are there on Mondays and Wednesdays, 10am to 4pm, to assist them.
Below: Debbie Allen (left) and Marcia Howard in the research room on January 8.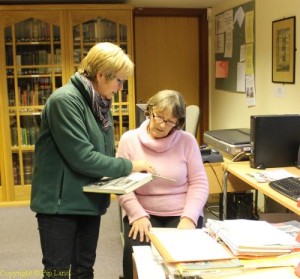 For several years I have been on the editorial panel of Now Then,  the annual magazine of the Friends of the DCM. Colin Day has done a superb job of editing the magazine for the past ten years and has now handed the job over to me. Thankfully he is remaining on the editorial panel along with Eleanor Scarr who is so knowledgeable about Dales folk, culture and history.
There are so many hidden treasures at the museum that I have decided I would write a blog this year showing the work of the volunteers while finding more stories for Now Then.
Museum officer, Debbie Allen, will keep me informed about when volunteers will be at the museum. It should be an interesting year!
I started on January 8 and one of the items in the boxes stored at the museum which so intrigued me was a morality snakes and ladders board game. Liz Kirby was very excited about the handmade toys like a miniature chair made from pegs…
If you are interested in joining the Friends of the Dales Countryside Museum leave a comment on one of the following posts: