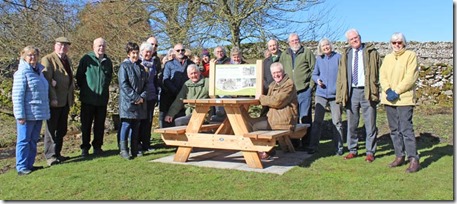 "These small projects are so exciting and so memorable," commented Andrea Burden of the Yorkshire Dales National Park Authority's Sustainability Development Fund when she was in Thornton Rust to celebrate with villagers the upgrading of the car park in the Outgang.
That morning YDNPA's Champion for Sustainable Development, Chris Clark, presented Aysgarth and District Parish Council with a cheque for £3,740 from the fund towards the cost of the refurbishment.  He said: "It is absolutely fantastic that communities like Thornton Rust have come together to improve this facility and the environment."
He told them that since he moved to Oughtershaw in Langstrothdale in 2005 he has become a Buckden parish councillor. He is now a parish council representative on the National Park Authority.
In response Thornton Rust parish councillor David Pointon said: "I want to thank all those who have been so deeply involved in this and the YDNPA for its support.  I know most people in the village have contributed in one way or another – everybody has done their little bit which just shows that this village is the best one to live in in the Dales!"
Many villagers braved a cold wind to attend the presentation and to see the interpretation board which the YDNPA has created. They were joined by Eleanor Scarr and Owen Metcalfe who grew up in the village and provided a lot of information about how the sheep fold and sheep dip were used in the past. For more about that read their story in the November 2017 issue of Now Then which is on sale at the Dales Countryside Museum in Hawes for just £2.
The interpretation board will be installed in about a week's time said Mark Sheard, who led the team which carried out so much of the work on a voluntary basis.
For more about the Outgang project click here.
Below: Chris Clark (left) presenting the cheque to Cllr John Dinsdale (chairman of Aysgarth and District Parish Council)  and Cllr David Pointon.
Mark Sheard (left) and Martyn Donno with the interpretation board
Looking up the Outgang towards the car park and the moors beyond.
Three men on a bench: Chris Clark, Mark Sheard and Martyn Donno