The YDNPA has widely publicised its "Attracting Families to the Yorkshire Dales National Park" initiative since its Full Authority meeting in  December but that publicity does not include the objections raised by some members to the proposal to increase the council tax on second  homes. At that meeting there was also a very interesting report on the introduction of a charge to use the YDNPA's  public toilets at Grassington compared to having a donation box at those at Aysgarth.  The members also agreed that the Authority should:  sponsor a  "Yorkshire Dales garden" at the RHS Chelsea Flower Show;  adopt the new Cumbria Minerals and Waste Local Plan 2015-2030 within the new areas of the National Park; and to continue with the objectives of the current Management Plan as the new one, it was reported, will not now be adopted until June 2018 at the earliest. (Below: Semerwater is one of those beautiful places that attracts so many to the Yorkshire Dales.)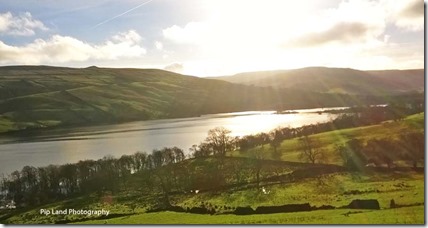 Attracting families and increasing council tax on second homes
Second homes  "deny" a home to a permanent resident and help to push up house prices beyond the reach of  local people, especially younger people, David Butterworth, the YDNPA chief executive, told members.
He quoted figures from the 2011 census which showed the from 2001 to 2011 an average of 65 new homes were created each year in the National Park. But approximately 90 houses were being turned into second homes or  holiday lets each year. Of the 13,500 dwellings or more 3,000 were second homes or holiday lets.
The majority of the members supported his recommendation to support putting time into working with the constituent district councils to try to reach agreement on a joint programme of activity to attract more families and people of working age to move to the National Park; and, as part of that programme, to approve the Authority working alongside the district councils and other relevant authorities to develop a specific proposal to the Government on second homes.
Mr Butterworth recommended that the YDNPA should work with the local authorities to seek government support for the establishment of a five-year pilot to test whether a substantial increase in council tax on second homes within the National Park would have a positive impact, in part by bringing homes back into full-time occupancy and by discouraging the purchase of second homes.
He said: "It is not for the YDNPA to set the level of council tax that might apply during the pilot period. This can only be decided by the authorities that have responsibility for these matters. Nonetheless the sum concerned has to be of sufficient magnitude to have a significant impact. Whilst a small increase in council tax on second homes might raise some additional revenue, it is unlikely to deliver the objectives.
"For those reasons it is suggested that a figure of at least five times the current rate should be considered. To provide an indication of impact, that would equate to a charge of at least £8.5k per annum on a Band D property. It is unlikely that this initiative would raise significant revenue, and that is not the aim. However, any additional funding that is raised should be ring-fenced to provide extra support for local services in the Park communities."
One reason  he gave for this was that second home ownership was inadvertently contributing to the long term decline of the area. He told members: " People should not be prevented from buying second homes but we believe there is merit in exploring options to make the process less attractive for second home owners."
Many of the members agreed that something had to be done as communities were being undermined leading to the loss of schools, shops and other facilities. Richmondshire District Councillor Yvonne Peacock pointed out that in order to retain such a beautiful landscape it was not possible to build many new houses. She hoped that an increase in the council tax on second homes would lead to a drop in house prices. "Then we will actually have people living and working in our National Park," she said.
Some members did question the proposal to increase council taxes on second homes.
A former chairman of the YDNPA, Steve Macaré, did not believe that the Authority should be leading the way with such a proposal because it was not a precepting council. That, he said, should be left to the district councils which have areas within the Yorkshire Dales National Park.
He and others pointed out that the negative impact upon rural communities of the increasing number of second homes and holiday lets was a nationwide problem and not just within national parks.
North Yorkshire Conty Cuncillor John Blackie warned about the law of un-intended consequences which could lead to the interests of local communities actually being damaged. Others described the proposal as a blunt instrument which had not been fully researched.
Jocelyn Manners-Armstrong said: "The people who buy second homes are our [national park] friends, they are our supporters, they care about the Dales. We shouldn't repay their support by making them pay more."
She accepted that something did need to be done but asked at what cost. She agreed with some others that the priority had to be to create more jobs, and to improve transport and communications.
The chairman of the Authority's planning committee, Richmondshire District Councillor Caroline Thornton-Berry commented: "I think we could be open to legal challenge if we suddenly say to somebody who has been coming here for maybe 40 years that [their second home] is going to cost an extra £10,000 a year."
A parish council representative, Cllr Allen Kirkbride, described how many second home owners in Askrigg actively supported community events. He did not believe that increasing the tax on second homes would solve the problem of providing more affordable housing.
Cllr John Blackie pointed out that many of the volunteers with the Little White Bus service had been second home owners and now wanted to give back something to the community. "An increase in tax will put off people who want to contribute – they will go elsewhere," he added.
Some members wondered why the issue of holiday lets was not also being considered as these also had a detrimental impact upon local schools, medical practices and other facilities. Jim Munday said the Authority should consider its own planning policy which allowed traditional barns to be converted into holiday lets as well as local occupancy homes. "I support this initiative but I strongly recommend that there is no difference between holiday lets and second homes," he stated.
Mr Butterworth,  however, replied that holiday lets were businesses that contributed to the local economy in a way that second homes didn't. More importantly, he added, was that one of the policies of the National Park was to encourage more tourists to come and enjoy it (see below regarding the Chelsea Flower Show). To include holiday  lets  with second homes would be an 'absolute nonsense', he said.
(One member told the Association's representative at the meeting that some second home owners were already considering turning their properties into holiday lets. If they did that they would then pay business rates of which only half would go directly to the district council. The rest would go to the government which would then decide how much to give to the district council. )
Toilet charges
After a 25-month trial the Yorkshire Dales National Park Authority has found that people prefer to make a financial donation to use public toilets as at Aysgarth rather than being charged.
"Psychologically it is known that making a donation makes the individual feel good. Paying for something can have the opposite effect," Kathryn Beardmore, the director of park services, said.
According to her report it was decided in March 2015 to run a trial at two National Park centres to help raise funds for the Authority. At Grassington turnstiles were installed at a cost of £8,700 so that visitors have to pay 20p to enter the National Park's toilets, whereas a donation box was placed at those at the Aysgarth information centre (above) for just £500. The net income at Grassington between August 1 2015 and August 31 2017 was £23,900 after £3,200 was spent on collection costs and £1,200 on repairing the turnstiles.
Ms Beardmore reported: "In the first year, when the turnstiles were under warranty there was no maintenance, but two years on they are becoming increasingly troublesome."And that means more trouble for the Authority's staff at Grassington.
The staff have had to deal with irate visitors who have put their pennies in but couldn't gain admission to the toilets. Besides helping them to access the toilets and organising the repairs, staff have also had many requests for change.
This was compared to the toilets at Aysgarth where the car park is one third the size of that at Grassington and where coaches cannot park. The income raised from donations there was £3,000. Ms Beardmore said: "The box is emptied by the centre staff and banked by them as part of their daily routine so takes minimal staff time, and has no start up or on-going repair costs."
She added that at Grassington 54 per cent of visitors were satisfied with the toilets there compared to 91 per cent at Aysgarth. She said this was not due to the level of upkeep or cleanliness of the two sets of toilets. Not surprisingly, the Authority will not be installing any more turnstiles at their toilets although those at Grassington are expected to remain for a few more years.
Ms Beardmore commented: "Based on this trial, the life span of the turnstiles and the amount of on-going maintenance and staff time required could be problematic."
A donation box has already been installed at Malham and it is likely that there will be boxes at the National Park's toilets at Hawes and Horton in Ribblesdale.
Ms Beardmore concluded her report by stating: "We want to be a welcoming National Park, with a high level of customer satisfaction, particularly when people come to our own sites. At the same time we need to set ourselves targets for income generation. Based on income generation, the turnstiles at Grassington have been a success. This is largely due to the high number of coaches, and because staff are on hand, throughout the year, to resolve problems as they arise."
Chelsea Flower Show
It was agreed that the Authority will allocate £25,000 from its Opportunities Fund to sponsor Welcome to Yorkshire's "Yorkshire Dales Garden" at the 2018 RHS Chelsea Flower Show.
David Butterworth, the Authority's chief executive, told the meeting: "At a difficult time economically, tourism within Yorkshire and the National Park has continued to grow. It is important that this continues into the future and it is felt that playing a part in the 2018 Chelsea Flower Show would be part of that process."