In Ningbo in the 1850s  Mary Ann Aldersey sought to act as a matchmaker for the young Maria Dyer. Her first choice was Robert Hart (later Sir Robert Hart) but Maria was more interested in James Hudson Taylor. It fell to Jemima Poppy Bausum to help Hudson Taylor and Maria become a couple.
As an experienced matchmaker Mary Ann Aldersey realised there was nothing like a long trip into the azalea-carpeted hills that encircled Ningbo for a touch of romance. The only problem was that the young man was so out of breath trying to keep up with his beloved's palanquin that he never managed to say "Will you marry me?"
By the early 1850s the foreigners could visit the hills around Ningbo and Miss Aldersey was quick to use a day-trip to bring two young people together. She took her matchmaking duties very seriously as she was responsible two very eligible foreign young women in Ningbo at that time: Burella and Maria Dyer. She had initially invited just Burella to help run her school.  Burella, however,  insisted that her sister, Maria, should accompany her. Miss Aldersey felt that as their work would be wholly among girls and they were sober minded and earnest their youthfulness would not be a bar to their both travelling to China. She said they were very missionary hearted and could largely support themselves.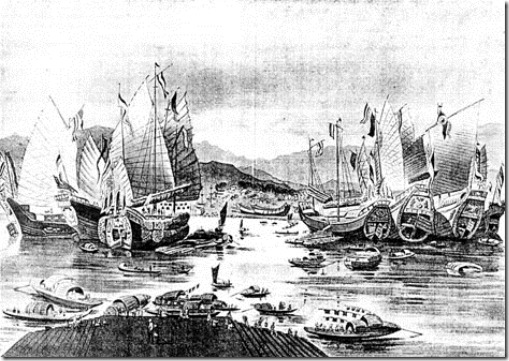 When they arrived in Ningbo on January 12, 1853, Burella was 18-years-old and Maria was just four days short of her 16th birthday.  They quickly settled in and soon became fluent in the local dialect as they had spent their childhood surrounded by Chinese. They were very much at home, whereas for another teenager Ningbo provided a hard and lonely start to an illustrious career in China1.  Above: The type of  river view which the Dyer sisters and Robert Hart would have seen on arrival  in China after their long sea voyages. Drawing by C. F. Gordon-Cumming.
Robert Hart was 19-years-old when he arrived in Ningbo and was taken on a tour of the city by the British consul, John Meadows. A year earlier he was doing post graduate studies in modern languages and modern history at Queen's College in Belfast when the British government was recruiting young men who could be sent to China to learn the language and become interpreters, especially as those already there had a knack of dying young. When he reached in Ningbo in September  1854 there were about 22 foreigners there.  Most were missionaries  (mainly American Presbyterians and Baptists plus a few from the British Church Missionary Society) along with some Roman Catholic priests, merchants, opium smugglers , consular officials and the occasional sea captain.
Having come from a family steeped in Wesleyan Methodism he attended church services and initially sought companionship among the missionary community. When he met Miss Aldersey he thought she was a very nice old lady but rather "old maidish in dress." He was far more interested in the Dyer sisters and wrote about Maria: "I admire her so much that I can say no more about her." He spent many pleasant evenings with the various missionary families and noted that the wives made superb cakes and jams.  Hart became especially close to the Rev William Russell and his wife, Mary, who had been Miss Aldersey's ward.
It was likely that it was at a Christmas dinner with a missionary family  that Miss Aldersey noticed his longing to become acquainted with Maria. It was quite a feast: soup, leg of boiled mutton, two roast pheasants, a roast goose and a nice piece of bacon, followed by plum pudding, mince pies, tarts and blancmange. And afterwards he was able to sit beside Maria. "She is such a sweet nice girl," he wrote in his diary.
So in April 1855 he was invited to join the Russells, Miss Aldersey, the Dyer sisters and some others on a visit to the hills.  He wrote in his diary: "When going up the hill .. I walked by the side of Miss Maria D's chair for about an hour, during which time I said very little & was near fainting half a dozen times, as I was about 'declaring love' & c. I once got so far as clearing my throat, but I lost my breath and could not go on. I let the opportunity slip – unfortunately or fortunately. I don't know which! What a youth I am!" He never did get that special kiss he longed for. After that outing he seemed to have given up hope of winning Maria and also slowly moved away from the missionary community.
He was to prove  far more flexible in his approach to the Chinese culture – a trait that would help him build bridges between the foreigners and the Chinese and so later be in a position to help China adjust to western modernisation.
He quickly realised that his salary would not enable him to support the sort of English wife who would expect to have many servants and was likely to be frequently ill. It was far cheaper and much less complicated to take a Chinese mistress and Meadows was only too happy to help him find one.
In July 1855 Hart gave up writing a diary for a few years  and so provided no record of his view of the great unholy rumpus that tore apart the missionary community in Ningbo in 1857. Miss Aldersey, Maria Dyer, James Hudson Taylor  and Jemima Poppy Bausum were at the centre of that row.
When Jemima arrived in Ningbo in October 1856 she and her children, Mary (7), George (almost 6) and William (4) were enveloped by a missionary community where everyone helped each other no matter what their denomination or background. It is likely she first went to Dr William Parker's small hospital in a farmhouse among the paddy fields where her infected tonsils could be removed. By November she had moved to Miss Aldersey's household in the city so that  she could start learning how to run the school of 60 girls at which Maria and Burella Dyer and San Avong were teaching. Miss Aldersey was looking forward to retiring from the school she had founded in 1843 as she wanted to do more missionary work. The transition was hastened by the advent of the Second Opium War.
By the end of 1856 Guangzhou (Canton)had been seized by foreigners following a bombardment  by British and French gunboats.  Cantonese pirates around Ningbo were out for revenge and by January were planning to massacre all the foreigners. Several missionary wives and their children were evacuated to Shanghai and Miss Aldersey wanted to send the Dyer sisters as well. But when Jemima decided to move to the American Presbyterian compound across the river the sisters went with her (see map below).  Miss Aldersey had agreed that when she retired her school would be amalgamated with that at the American Presbyterian compound and so the transfer was completed. But even if the Dyer sisters were no longer living with her Miss Aldersey believed she was still acting as their guardian while they were in Ningbo.
By late January she was concerned about Maria as the young woman had already turned down two proposals of marriage. That month Maria confided in the "wise and motherly" Jemima that she had been praying about Hudson Taylor after his first visit to Ningbo between October and December 1856. Then, in February, Maria believed those prayers had been answered for she received a proposal of marriage from him. Miss Aldersey, however, was adamant – Maria had to refuse him and tell him not to be in contact with her.  Very soon even her sister, Burella, was telling Maria to stay away from Hudson Taylor.
For Maria it was going to be a long, hard year, one in which young Mary Bausum would remember her often looking very sad. "It seemed as if God's will and Miss Aldersey's were opposite," Maria wrote to her brother, Samuel. It was hard to accept that a woman she had come to love and respect could be so wrong. As she struggled with this she wrote: " … no man is infallible and I must allow no one's judgement to come between me and my God." 2
When Hudson Taylor  returned to Ningbo in June 1857 he was very careful not to approach Maria. He soon found, however, that Miss Aldersey was actively working against him. She asked other missionary couples not to help the two to meet and told Maria not to visit those with whom Hudson Taylor was working. The missionary community was split, divided by Miss Aldersey's fierce opposition to Hudson Taylor. He did find an ally in Jemima and it was from her that he learnt that Maria was interested in him. And it was Jemima who, in July, arranged a meeting between Maria and Hudson Taylor which she chaperoned. At that meeting Maria gave him permission to write to her official guardian in England, William Tarn, asking for permission to marry her. But it would take four months or more before he would get a reply.
Miss Aldersey was furious when she learnt that both Maria and Hudson Taylor had written to Tarn. To her Jemima was just as guilty because she had allowed them to meet. When Hudson Taylor went to see her she left him in no doubt how far she would go to stop him and Maria being together. She told him he was neither a Christian nor a gentleman because he had approached a minor without seeking her permission as Maria's "guardian" in Ningbo. There was much more she had against him.
When he arrived in Ningbo in October 1856 he had already discarded the hot, tight fitting western apparel for Chinese clothing. In Shanghai he had been ridiculed by the foreign community for "demeaning their superior race" by dressing like a Chinese. He had done so because he did not want to be immediately recognised as a foreigner when he travelled illegally outside the treaty ports as an evangelist.
He was also often penniless because he was determined to "live by faith" and depend upon prayer to God for his daily needs. He wasn't getting a regular allowance from the  China Evangelisation Society as that agency didn't have the funds to support the missionaries it had sent to China. But in addition his pietist beliefs led him to give to anyone who asked him for food and money. If that wasn't enough he had broken the cardinal rule of travelling on a Sunday. He tried to explain to Miss Aldersey  that he had been helping a missionary who needed urgent medical care when he had committed that "sin" but to no avail.
One of those who did understand him was Jemima for her late husband had wanted to "live by faith". And, of course, Maria's mother had also embraced John George Bausum's pietist approach when she became his first wife. Maria's father, Samuel Dyer,  had given up studying for a degree in law when he felt the call to become a missionary – so it wasn't much good telling her (as Burella's fiancé, the Rev John Burdon did)  that Hudson Taylor should go back to England and finish his medical studies before he could propose to her.
Miss Aldersey was not used to being opposed but in Maria,  Hudson Taylor  and Jemima she met her match. Maria was more in line with that strong independent streak of Protestantism which allowed each person to have their own personal relationship with Jesus and made it possible, even for a young single woman, to make decisions of her own so long as she felt they were backed up by God. As Hudson Taylor commented to his mother, the whole row centred on the fact that many did not think a maiden lady was qualified to judge on matters of love. He also wrote home about Miss Aldersey: "There is a good deal to be said in excuse for one now about 60, with failing memory, who has always ruled supreme over a large establishment and been spoiled by the deference and flattery shown her. She cannot brook contradiction."
It was on December 11 that Maria received a letter from her aunt and uncle giving her permission to accept Hudson Taylor's proposal so long as the wedding took place after her 21st birthday on January 16, 1858. The Tarn's also asked Jemima to be like a mother to the young couple – which she was very happy to do. After that the young couple often met at her home where her daughter, Mary, noted that they flouted convention by sitting together and holding hands.
Miss Aldersey still tried to stop the marriage. Russell had sided with her in the row and so refused to officiate at the wedding even though he was the most senior CMS missionary in Ningbo. He also took the British Consul on a shooting trip on the day of the wedding -January 20. But the Consul signed the necessary papers before he went and left his deputy, Hart, to act for him.
On January 20 Hudson Taylor was penniless and his wedding suit was a plain cotton Chinese robe. Others rallied around to make it a special day and the Consul helped by returning the wedding fee in lieu of the groom's assistance as a translator. The couple would go on to become two of the most influential missionaries in China in the 19th century through the mission they founded: the China Inland Mission. They would owe much to Jemima in the early days of that mission.  But first Jemima had a price to pay for supporting the couple against the wishes of Miss Aldersey.
©P Land
WAS YOUR FAMILY IN CONTACT WITH BRITISH CHRISTIAN MISSIONARIES IN THE 19TH CENTURY? If so why would you like any research done concerning those missionaries: when and how they reached your family's home town, what they did there and maybe even if they had contact with your ancestors? If so post a comment on this website.
Below: Map of Ningbo when Miss Aldersey had her school in the city. From A Woman Pioneer in China  by E Aldersey White, The Livingstone Press, London, 1932.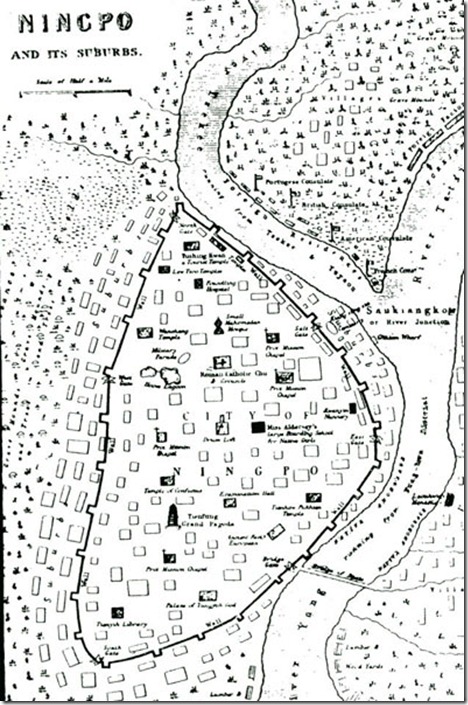 1. From 1863 to 1908 Sir Robert Hart was the Inspector General of  China's Imperial Maritime Custom Service.
2. Maria Dyer's letter to her brother, Samuel, in July 1857, China Inland Mission archives in the special collection at the School of Oriental and African Studies, London.
Other sources:
Katherine F Bruner, John K Fairbank and Richard J Smith (Eds and narratives) Entering China's Service – Robert Hart's Journals 1854-1863, Harvard University Press 1986, pp 8-9, 62-63, 70,71, 84, 96-97, 128-129.
Records of the Society for Promoting Female Education of the East held in the Special Collection at Birmingham University; and The Female Intelligencer 1856-1860.
Church Missionary Society Intelligencer 1853 (Report of the Bishop of Victoria about a visit to Ningbo in the spring of 1852).
Dorothy Lord Bausum Evans He Led All the Way Xulon Press 2007.
About Maria Dyer and James Hudson Taylor : J C Pollock Hudson Taylor and Maria, Hodder & Stoughton 1962, pp 81-105; Geraldine Guinness The Story of the China Inland Mission, Morgan and Scott 1894; and  A J Broomhall If I had a Thousand Lives – Hudson Taylor & China's Open Century Vol III Hodder & Stoughton 1982.